The wedding season is now in full swing and this year there are a number of high profile weddings taking place. The summer weather appears to have lost it's way but that hasn't dampened enthusiasm for country summer wedding flowers. In my last blog I discussed sesonality within the floristry industry, and the diversity and excitement that embracing the effects on flower availability that seasonal changes can embody. An idea embraced wholeheartedly by the royal wedding of Kate and William who used seasonal flowers and trees throughout, with Kate choosing Lilly of the Valley to feature in her simple bouquet: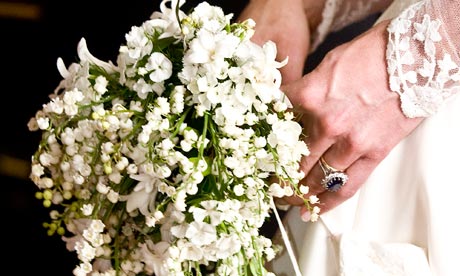 Using seasonal flowers works well with the increasingly popular look of relaxed, country wedding flowers. This style is my personal favourite form of floristry as it emphasises the simple beauty of the flowers themselves and creates a relaxed, elegant and timeless look.
It is refreshing to see celebrities such as Lily Allen, who married last Saturday in rural Gloucestershire choosing the Vintage English country look for her big day. Delphiniums, Old Varieties of garden rose and Hydrangeas were used to create
a laid-back English country, garden party feel.
The beautiful choice of flowers give a nod towards vintage nostalgia, without being dated. This look works well with vintage decor and fabrics a theme that can be picked up in the choice of containers and styling used throughout the wedding day.
Ultimately the look allows for a lot of choice and a personal feel, using soft colours and naturally stunning flowers, interest is created through contrasts in texture and tone. As a bride if you love the country, vintage look or would like to incorporate lace into your dress then this look will compliment the style beautifully.Naturally lending itself to the country church wedding adapted with the use of classic silver containers, candelabras and pearls the same look can be styled and adapted to perfectly fit the grandest of country manors. With it's reference to the enduringly popular 'vintage' look, I feel and certainly hope that this style is around to stay. If you love the summer garden the why not step away from the sometimes overly contrived glossy magazine looks and create a perfect summer's day of your own!